RIVERFRONT RECREATION
BYOB with a designated guide or captain the boat all by yourself!
The Chicago Electric Boat Company offers a unique, memorable and environmentally friendly way to see the great city of Chicago. By renting boats that are comfortable and easy to drive, the Chicago Electric Boat Company gives even new boaters a chance to get behind the wheel and see the city from this exceptional point of view.
Founded by Ron Silvia and the late Greg Krueger, the Chicago Electric Boat Company has grown to over a dozen vessels in only 5 years. Since opening our doors in April 2012, we have had the pleasure of introducing over 100,000 guests to the beauty of Chicago and the thrill of captaining a boat on the River. We are touched that passengers have chosen our boats as the preferred venue for celebrations, events, meetings, marriage proposals and even weddings.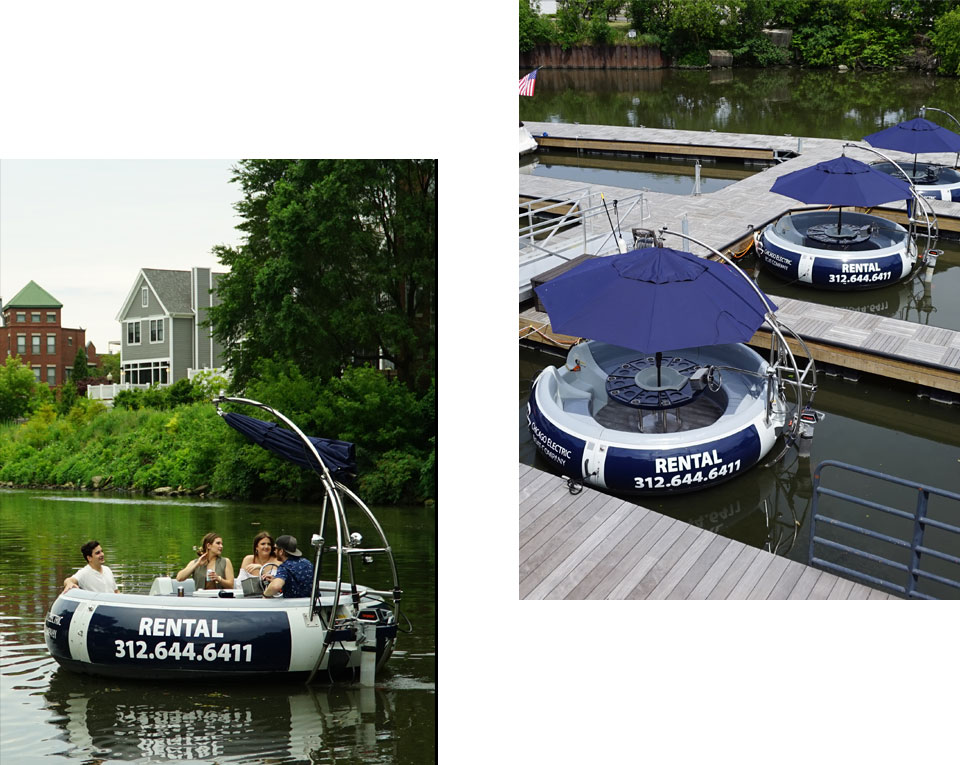 @chicagoeboats
Boating Tours + Rentals
The hubby and I stumbled on Chicago electric boats walking around so we stopped to check it out. It was so beautiful outside and peaceful riding Chicago river on our own. It is definitely a must do as two or even better if you have a group. I highly recommend!

These boats are great for sightseeing Chicago from the river and offer the opportunity to set your own pace and agenda in terms of where you go along the river. Staff was great, renting process very streamlined and was overall a wonderful experience with the electric vintage boats!

Jessie H.
via TripAdvisor
This was the second time we took to the river for a celebration with the Chicago Electric Boat Company! We loved it so much the first time and couldn't wait for another excuse to go out again. We've only tried 10 passenger duffy boats, but if you can drive a golf cart, you can drive one of these boats.

Stacey P.
via TripAdvisor